"It has always been a blessing to help somebody, but it's an even greater blessing to reach out to people who desperately need your help. For the last year, ICCM Kenya has travelled to have direct contact with children and families within urban areas, but also the most remote areas of Kenya. Recently the ICCM team visited one of the schools called Springs of life. This school is in the remote area of the Coastal Region in Kenya. It is situated at a place where the pupils while in school, interact with wild animals such as zebras regularly. For our team to get there, our vehicles had to be escorted by the Kenya Defense Force (KDF) as security because of the risk of wild animals and bandits.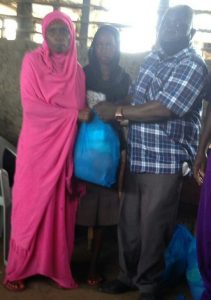 In this area of Lamu there are many aged women taking care of their grandchildren, common in rural areas of Kenya. Kashutu Karisa is 65 years old and takes care of her grandson Kelvin who is a thirteen-year-old in Grade seven at the school. Kashutu is struggling to make ends meet and desires to provide a good education for her grandchild. She told us how very grateful she is for the help that her grandson Kelvin is receiving from ICCM, she is very appreciative about the school fees support and was overjoyed to learn that we are planning to support the guardians with food during these difficult times until the schools reopen." 
Sponsorship is flexible and meets the needs of families in all kinds of different situations- rural or urban, younger or older, struggling with school fees, lack of  food or clean water, or no access to the gospel. And pandemic or not- our teams work tirelessly to be a blessing!